Construction of a new cell at the Rapid City landfill.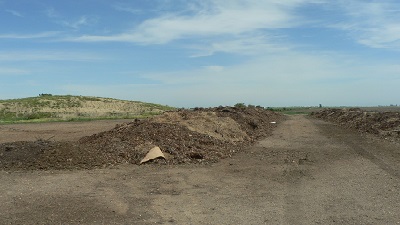 Compost windrows at the Freeman Restricted Use Facility.
For information about obtaining a permit, or for information on the regulatory requirements that pertain to Solid Waste, visit the South Dakota Environmental Permitting and Regulation Guide.
Additional Information
Waste Tire Handling
Background Information for Waste Tires in South Dakota
Waste tires are a regulated solid waste in South Dakota. There are administrative rules that govern the collection, transportation, storage, processing and disposal of waste tires.
Specifically, the rules hold waste tire generators, haulers, and other handlers responsible for ensuring that all waste tires are transported to a permitted facility or used appropriately. The rules contain requirements governing stockpiling and/or temporary storage of waste tires. The rules clearly state when a permit for temporary storage is required. On January 31, 2005 and May 16, 2005, amended waste tire rules became effective that now require anyone burying or partially burying tire wastes to first secure a solid waste permit.
South Dakota Administrative Rules on tires
---
Additional Information About Waste Tires

Federal research on recycled tire crumbs used on playing fields
US EPA information about scrap tires
US EPA information about tire derived fuel