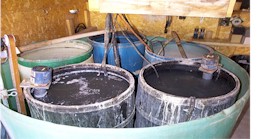 Water treatment chemicals.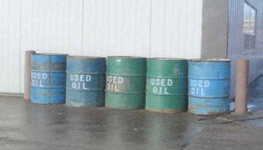 Temporary storage of used oil.
Small Quantity Generator Re-Notification
Beginning September 1, 2021, and every four years thereafter, Small Quantity Generators (SQGs) of hazardous waste are required to notify the state of their hazardous waste activity. This notification will largely mean a re-notification if your company has already notified as an SQG. SQGs should use EPA Form 8700-12. The same form should be used to let us know if your generator status has changed to either a VSQG or LQG.
Notification may also be submitted electronically using the myRCRAid system at:
https://rcrainfo.epa.gov/rcrainfoprod/action/secured/login.
Questions regarding this requirement and about completing the form may be directed to Hazardous Waste Section by email or by phone at 605-773-3153.
2023 Hazardous Waste Rule
Found under the Administrative Rules of South Dakota (ARSD) Chapter 74:28, the state's updated hazardous waste rules became effective August 28, 2023. For a copy of the state's rules, click here. Questions regarding the rules may be directed by email to Carrie Jacobson or to hazardous waste program staff by calling 605-773-3153.
Dakota Digital Network Presentation on Proposed Rule Updates
On June 18, 2019, staff from the Department of Agriculture and Natural Resources' (DANR) hazardous waste section provided an overview of proposed updates to the state's hazardous waste regulations. The event took place via the Dakota Digital Network (DDN) at locations across the state. A copy of the slide presentation used during the DDN presentation can be viewed at the following link: June 18, 2019 Proposed Rule Update Presentation Slides.
If you have any questions about the DDN presentation or the proposed rules, please contact: Anthony Wagner at 605-773-3153.
e-Manifest National Tracking System
EPA has established a national system for tracking hazardous waste shipments electronically. This system, known as "e-Manifest", modernized the nation's cradle-to-grave hazardous waste tracking process. EPA launched the e-Manifest system nation-wide on June 30, 2018. Until the SDDANR incorporates the e-Manifest rule into the state's hazardous waste rules, EPA will continue to implement the system; however, South Dakota is responsible for providing access to the system for South Dakota hazardous waste generators.
For more information/fact sheets, please see EPA's e-Manifest fact sheet website.
Specifically, the Hazardous Waste Generators Fact Sheet can be found online.
Contact Carrie Jacobson or Tony Wagner at (605) 773-3153 to access the e-Manifest system or if you have any additional questions.
Determining If Your Business Is a Hazardous Waste Generator
To determine whether your business generates hazardous waste, this regulatory summary is a good starting point.
After reviewing the information, if you have any questions or if your situation does not appear to be addressed, contact the South Dakota Hazardous Waste section by e-mail or by calling (605) 773-3153. If you wish to read the South Dakota statutes and regulations pertaining to generators of hazardous waste, visit the South Dakota Environmental Permitting and Regulation Guide or read the following: South Dakota Codified Law 34A-11, Administrative Rules of South Dakota 74:28, and 40 CFR Parts 260-279.
Obtaining a Hazardous Waste ID Number
Complete the Notification of Regulated Waste Activity Form
Once completed, please mail the original signed hard copy form to:

SD DANR - Waste Management Program
523 E. Capitol Avenue
Pierre SD, 57501
Notification may also be submitted electronically using the myRCRAid system at:
https://rcrainfo.epa.gov/rcrainfoprod/action/secured/login.