Soil-Plant-Air-Water Weather Data
The 2017 general permit requires that facilities with open lots and/or uncovered manure management systems provide the results of the Soil-Plant-Air-Water (SPAW) modeling program. The program is a hydraulic model of the site that demonstrates that, when provided with site specific information and 100 years of weather data, demonstrates that, if properly designed, constructed, operated, and maintained, the facility would not have discharged from their manure management system in the 100 year timeframe. The modeling software may be obtained at the NRCS SPAW Website.
The following map identifies the weather reporting stations with 100 years of weather data that are available to be used with the SPAW model. The data was compiled by the South Dakota Natural Resource Conservation Service (SD-NRCS) and they will add additional stations as other stations meet the 100 year data requirement. Using the SPAW Map below, identify the closest weather station to your site, and download the corresponding data located below the map. The data provides maximum temperature, minimum temperature, and precipitation as available. Notes are provided in each file regarding any missing data.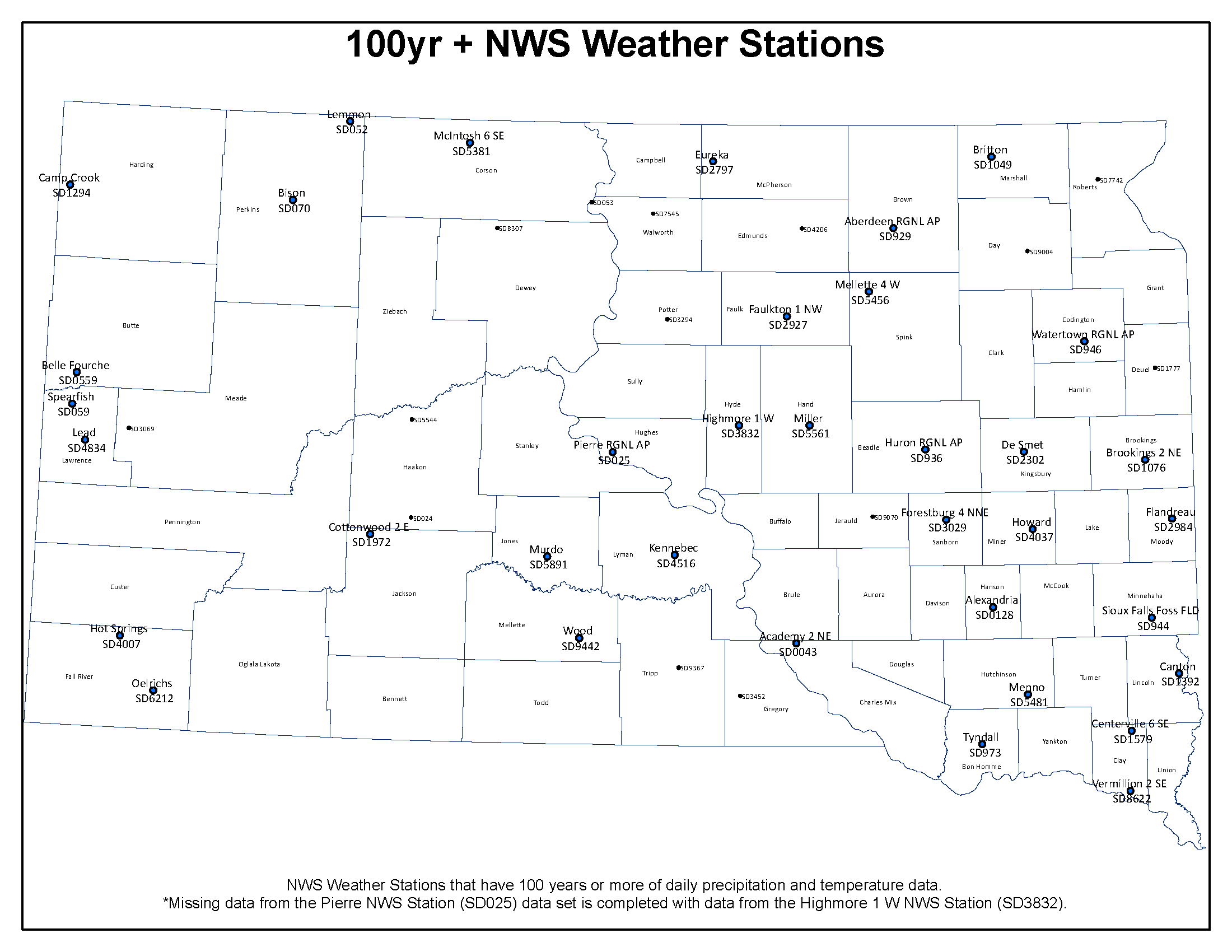 Aberdeen Academy 2NE Alexandria Belle Fourche Bison Britton Brookings 2NE Camp Cook Canton Centerville 6SE Cottonwood 2E DeSmet Eureka Faulkton Flandreau Forestburg 4NNE Highmore 1W Hot Springs Howard Huron Kennebec Lead Lemmon McIntosh 6SE Mellette 4W Menno Miller Murdo Oelrichs Pierre Regional Airport Sioux Falls Airport Spearfish Tyndall Vermillion 2SE Watertown Airport Wood