Drilling a Well - Where to start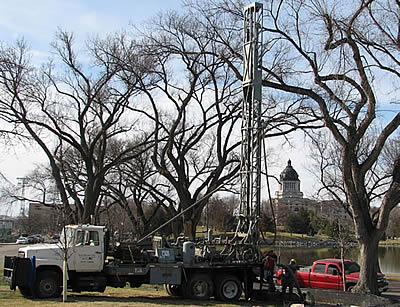 Water Source and Quality. One of the first things to investigate is what water sources are available and what is the water quality of those aquifers. There are numerous sources of information available to assist you with your investigation. Many of the counties in South Dakota have had ground water hydrology studies completed by the US and SD Geological Surveys. These hydrology studies are excellent references concerning the location of ground water and the general water quality. A county-by-county listing of the publications may be viewed by clicking here. You may also contact the Water Rights Program by e-mail or call (605) 773-3352 if you have questions. Other sources of information include talking to well drillers familiar with your area and visiting with your neighbors.
Other Water Supply Options. Another option available in many areas of South Dakota is hooking up to rural water. There are many benefits to rural water -- reliable water service, water that is treated to meet water quality standards, and no well maintenance concerns. In addition, by hooking to rural water or to a municipality you may avoid certain legal requirements. When using your own well, you may need to obtain a water right permit and do ongoing water quality sampling depending on your type of water use. For information regarding when ongoing sampling is necessary, please refer to the information provided by the SD DANR Drinking Water Program.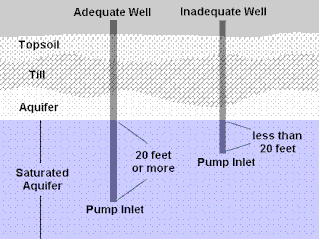 Before Drilling
Permitting. Your proposed water use may require obtaining a water right permit. In order to determine whether you need a permit, please refer to the Using Water in SD web page. If a water right permit is needed, state law requires the permit to be approved prior to doing any well drilling. Aside from this legal requirement, it is Drill Rigwise to know whether you can get the permit before incurring the expense for a new well. However, you may seek permission from the chief engineer of the Water Rights Program to have a test well constructed prior to obtaining a water right permit. This test well could then serve as your production well provided your application for a water right permit is approved. Please note that getting a water right permit involves public noticeand may take several months so plan your project accordingly. If you need a water right permit and your application is approved, you will have five years to construct your water use system and an additional four years to place all of the water to beneficial use. Application forms for a water right permit are available for downloading.
An issue which may be related to your water use is disposal of wastewater. Certain types of wastewater disposal systems need approval of plans and specifications which detail the design of your wastewater handling system. Examples of systems that need approval of plans and specifications are multiple housing units connected to a common wastewater system or various commercial uses of water. To know for certain whether your wastewater system needs state approval, please contact the Surface Water Quality Program by e-mail or call (605) 773-3351.
Licensed Well Driller. Unless you are drilling your own well, you need to hire a well driller who is licensed to construct wells in South Dakota. It is highly recommended that you use a licensed well driller unless you are capable of constructing your own well in accordance with the state well construction standards. These standards specify how a well is to be constructed and that the completed well meets the definition of an adequate well. Adequate Well SchematicAn adequate well is constructed in amanner that allows the pump inlet to be lowered at least 20 feet into that portion of the aquifer that is saturated at the time the well is drilled. If the saturated aquifer is not 20 feet thick, then the pump inlet needs to be placed as close as practical to the bottom of the aquifer. A well owner with an "adequate well" is afforded certain legal protections that are not available to well owners with inadequate wells. For example, if water levels decline in an aquifer during drought conditions, then the owner of an adequate well used for domestic purposes has first preference over other water uses which require a water right permit. In this same scenario, the owner of an inadequate well would not receive any legal protection since water may be available in the aquifer but the well is not constructed in a manner that allows the pump to be lowered to reach the water. One exception exists concerning inadequate wells. If water becomes unavailable due to mine dewatering, then even an inadequate well receives legal protection.
A licensed well driller is responsible for constructing an adequate well and complying with the well construction standards which includes informing the well owner of drilling requirements, completing the well and installing equipment to control a flowing well, submitting records, and informing the owner of plugging requirements if a well is abandoned. While we can not recommend a specific licensed well driller, we can advise you whether a well driller is licensed to do work in South Dakota. You can view a listing of licensed drillers, call Adam Mathiowetz with the Water Rights Program at (605) 773-3352, or contact us by e-mail.
After drilling
Well Owner Responsibilities. After the well is completed, the well owner is responsible for keeping the well capped or covered, in good repair, and in a sanitary condition. If the well is flowing, then the owner is responsible for controlling the flow to the amount of water needed for domestic use or to the amount allowed by your water right permit. During periods when water from a flowing well is not needed, the flow needs to be turned off. However, a flowing well may be allowed to flow up to five gallons per minute during the winter months to prevent freezing. Also, if you need a water right permit for your water use, you may notify the Water Rights Program when your project is completed by filing a "Notice of Completion of Works." This Notice informs us that your project is ready for an inspection to license your water use which is the final step in getting a water right. Finally, your water right permit will likely contain some qualifications concerning your water use. Please be sure to follow these qualifications.
Water Sample From New Domestic Well. As required by the 1989 Centennial Environmental Protection Act, a water sample needs to be submitted to the SD Department of Health Laboratory or other approved lab for each new domestic well drilled in South Dakota. If the well flows or the well driller installs the pump, then the well driller is responsible for collecting and submitting the water sample. Otherwise, the well owner is responsible for collecting and submitting the water sample when a pump is installed. At a minimum, the sample needs the following parameters analyzed: nitrate, coliform bacteria, sodium, conductivity, and sulfate. For an explanation of these parameters, please see the Drinking Water Program's page on New Well Sampling. The well owner may also have the sample analyzed for other parameters at their discretion. After completion of the analysis, you will receive a copy of the results.
Abandoned Wells. Property owners are also responsible for plugging abandoned wells on their property. This responsibility exists regardless of whether the current property owner was involved in the original construction of the abandoned well. If you drilled a replacement well and have no plans to use the existing well, then the existing well is considered abandoned and needs to be plugged within thirty days after the new well is ready for use. Other existing wells on your property may be abandoned for any number of reasons including the age and condition of the well, changing property or water needs, hooking up to rural water, etc. A licensed well driller can assist you with plugging an abandoned well. For more information about the environmental and safety hazards caused by abandoned wells, please see the Abandoned well page.