Building a Dam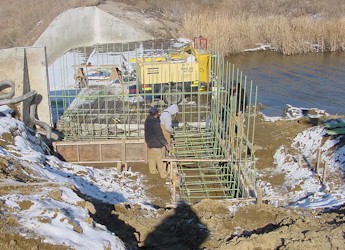 Several factors need to be considered before you build a dam:
Amount of storage capacity necessary to satisfy your proposed water use
Expected runoff yield from the drainage area above your proposed dam site
Neighbors downstream with existing dams\dugouts or other water uses that may be affected
Location of structures downstream from the proposed dam site
Permitting requirements (either a Location Notice or Water Right Permit will be needed)
The physical characteristics of the proposed dam will determine the type of permitting you need to do and whether you need to comply with the Safety of Dams rules. Construction of a dam is not allowable if the course of the water is changed, existing rights are interfered with, or land is flooded other than that belonging to the dam owner unless an easement has been secured to allow the flooding. The following permitting requirements also apply to dugouts that impound surface runoff.
Water Rights Permitting -- Location Notice or Water Right Permit?
Location Notice. A Location Notice needs to be filed for a proposed dam meeting all of the following conditions:
The proposed dam will impound 25 acre feet of water or less at the primary spillway elevation,
Water impounded in the dam will be used for in-place uses such as stock watering or fish and wildlife habitat, and
The dam is constructed on either a dry draw or nonnavigable stream but not on a navigable stream.
After completing a Location Notice, the original needs to be filed with the County Register of Deeds and a copy filed with the Water Rights Program with a $50.00 filing fee. You may download a Location Notice form from our web site. Following filing of your Location Notice, state law requires that construction of the dam begin within 60 days and proceed diligently until completed. Existing Location Notices that have been filed with DANR are available for viewing online.
Water Right Permit. An application for a Water Right Permit needs to be filed for a proposed dam meeting any of the following conditions
The proposed dam will impound more than 25 acre feet of water at the primary spillway elevation,
Regardless of the amount of water impounded, diversions will be made from the dam to serve some use other than reasonable domestic use, or
The proposed dam is being constructed on a navigable stream.
If a water right permit is needed, state law requires the permit to be approved prior to building your dam. Aside from this legal requirement, it is wise to know whether you can get the permit before incurring the expense of building a dam. Please note that getting a water right permit involves public notice and may take several months so plan your project accordingly. If your application for a water right permit is approved, you will have five years to construct your water use system and an additional four years to place all of the water to beneficial use. After construction of your dam, you may notify the Water Rights Program that your project is complete by filing a "Notice of Completion of Works." This Notice informs us that your project is ready for an inspection to license your water use which is the final step in getting a water right. Your water right permit will likely contain some qualifications concerning your water use. Please be sure to follow these qualifications.
For more information on water rights permitting, please refer to Frequently Asked Questions and Application and Hearing Procedures. Application forms are available for downloading and detailed instructions are also available to assist with completing your application. You may also view pending applications undergoing public notice or issued water rights online.
Dam Owner Responsibilities
After the dam is completed, the dam owner is responsible for maintaining the dam in a safe condition. Maintaining your dam not only makes sense by protecting your investment but also by protecting you from civil or criminal negligence suits resulting from failure of a poorly maintained dam. Common maintenance items are repairing erosion and filling animal burrows on the dam embankment and spillway, removing tree and brush growth from the embankment and spillway, and removing debri from the spillway. Depending on how the dam is constructed, there may be numerous other maintenance items as well. Maintenance inspections should be performed on a regular basis and particularly after a major flood event.
For more information about maintaining a safe dam, please visit our Safety of Dams webpage.